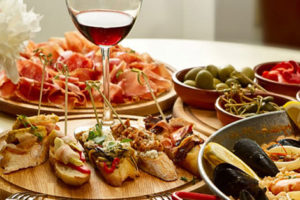 I would like to open this blog with an entry about something specifically Spanish, so I am going to talk about the well-known tapas.
Tapas is one of the greatest pleasures that can be found in Spanish culture, it is not only about eating out but about a whole social experience.
A tapa is an aperitif that is served in most bars with alcoholic or non-alcoholic drinks, they have become an identity sign of Spain and Spanish culture. There are several expressions that refer to the action of eating tapas: tapear, ir de tapas o el tapeo amongst others.
There are several explanations about the origin of the word tapa. Some believe they were due to economic interest of bartenders who served small pieces of salty food, such as ham to make the clients drink more. Others think they appeared as a result of covering the drinks with a piece of bread or ham as a made-up lid to stop the flies and dust getting inside the drink.
It is possible to eat out and have a meal exclusively based on tapas. The size and quality of the tapas depend on the region and the bars, it is best to ask the locals where to try the best tapas in the area, it is a great way to get to know a city while enjoying fantastic Spanish food.
Most of the tapas are served cold, only some of them are served hot such as croquettes, squid, Spanish omelette, stuffed peppers, etc. To eat tapas, you are not only limited to Spanish taverns or bars, they have also achieved a place in more formal menus and environments, they have become very popular in high quality restaurants where they are served as starters or aperitifs.
Here there is a list of most famous tapas (yum!):
¡Qué aproveche!